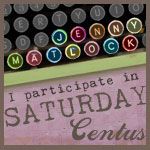 Picture Source: Wikipedia
Welcome to Saturday Centus, Week 70, Mrs. Jenny Matlock's writing challenge, where participants are asked to write a PG-rated text to a given written prompt, in any style or genre of writing, a picture is allowed, and using only up to 100 words (or several 100-word posts), not counting the seven words in the prompt. This is week 70 and the prompt is:

'what kind of a pizza is this

'


------


My text follows here:
'You've got it so bad, Sanna
', said Carina while cutting wedge-shaped pieces.

'Does It show?

'Yes. When you look at him.'

'Then I'll try not to.
What kind of a pizza is this?
' asked Sanna, changing the subject.


'

Capriciosa,

ham and mushrooms. But any kind of pizza will do.'

'So, you're suggesting a love-potion?

'Yes. If you really want him, just sprinkle this powder before you cover everything with cheese and put it in the oven.'

'And he'll fall in love with me, Carina?'

'Yes.'

'Wherever did you find a recipe for

Love-Potion-Pizza

?'



'On the Internet, where else?'



------

Word count according to
WordCalc
: 99

[Text Copyright 2011 Christina Wigren]

------
Best wishes,
Anna
P.S.
This is a is a purely fictional story using my made up character Sanna Rumsten and her friend, Carina Svensson, who seems to be dabbling in witchcraft.
If you would like to know if this love-potion works, please visit this post here.

------
First Commenter:
Skoots1mom
of
my hands HIS GLORY


To visit other SC-posts for Week 70, please visit this site or click on the image below: